The History of the Calga Dohne Stud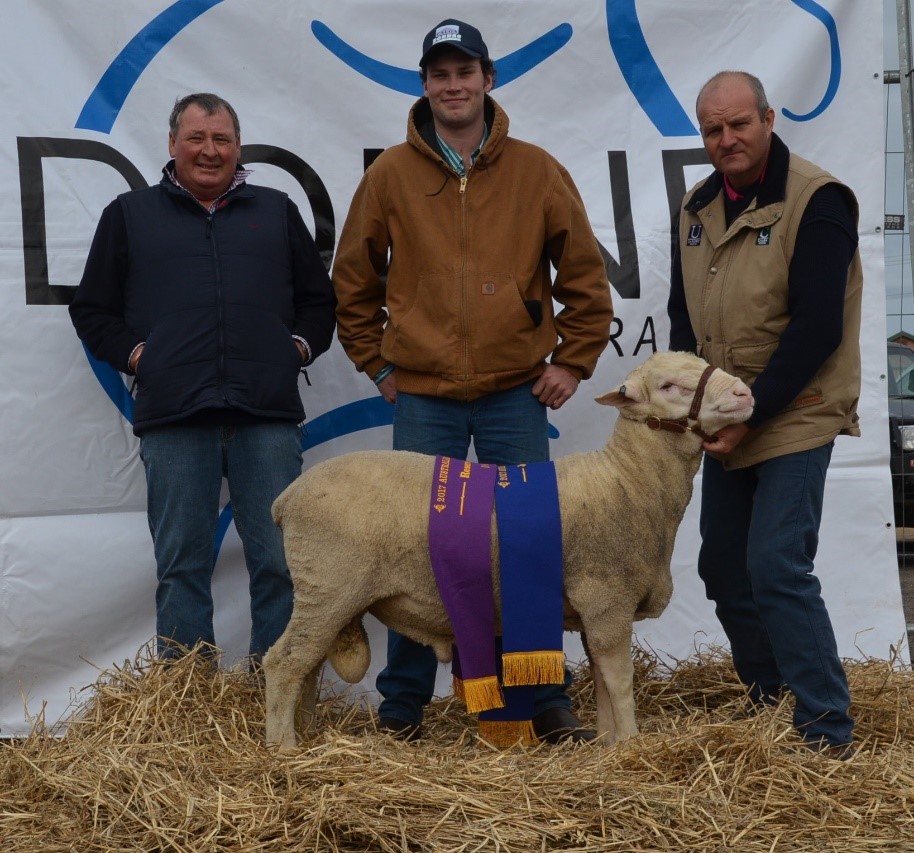 2020
Calga has 50% of the rams in the top 20 sires. Of those 100 rams 9 are Calga rams and a Uardry ram at No 5. That has been an exceptional result for the classing team. These results have followed through to this year's sale rams with an impressive line-up for the 2020 selling season. The Coonamble Sale rams presented had an average index of 172.1% and the Southern Sale line up an average index of 157.4%.
As of 24/8/2020 our outstanding Calga sire CA173301 is currently ranked the number 1 sire in the country, with a Dohne Plus Index of 209.73%.
We have no shows or ribbons to report for the latter of 2019 and for 2020 due to Covid Lockdown. Our only outings have been to drought information workshops, feed lotting, how to build them, what and when to feed, how long and lamb nutrition etc. The information supplied a total necessity and game-changer to our region and the conditions we were experiencing up until the end of January 2020.
2019
The ongoing success of the in-feece competitions, wool sales, and in the sale yard has been a crucial tool for the Calga Uardry and DD Studs in bench marking genetic gain in the commercial arena where high returns are paramount.
Congratulations go to CA160073 better known as "Charlie" on his recent sale to Europe. Charlie is also eligible for export to Argentina.
Once again Caroonboon Station at Wanganella continues to excel in superior wool production, securing the Champion Dohne Fleece and the Reserve Champion Dohne Fleece ribbons at the Australian Wool and Sheep Show held in Bendigo in July.
Early in the year $5000 secured the top price ram at the Alfoxton Sale . Alfoxton 17206 had an 18.8 micron fleece, standard deviation (SD) of 3.2, co-efficient of variation (CV) at 17.3 and a 75.3 per cent yield. He had a body weight of 103.5 kilograms with Dohne breeding values of 4.8 for yearling weight (YWT), yearling clean fleece weight (YCFW) of 14.2, a yearling worm egg count (YWEC) of -37 and an index of 138.5. Lot 51 ALF17232 another good quality ram was also purchased for $2,250 at the Alfoxton Sale. He had an 17.4 FD, YFDCV of 0.3, YWT of 4.1, YCFW 18 and a index of 130.
2018
The Calga Sire CA136525 was ranked the number 1 sire in the country witha massive index Dohne Plus Index of 214.6%
The Calga Stud was awarded 3rd placing in the Junior Champion Ram at the Australian Wool and Sheep Show with CA160073. The Champion Dohne Fleece along with the Reserve Champion Dohne Fleece ribbons were also acquired at the show.
2017
Calga took out the Junior Champion Dohne Ram at Bendigo along with the Reserve Champion Dohne Ram with their superb ram CA160058. Also the Reserve Champion Dohne Fleece Award at the National Fleece Competition Bendigo.
2016
Calga Dohnes sold 120 semen doses of CA113807 to the National Agricultural Research Institute in Uruguay. The Institute contributes to the sustainable development of the agricultural sector in Uruguay taking into consideration state policies, social inclusion, market and consumer demands. AchievedChampion Dohne Fleece awards at the Wagga Show and in the National Fleece Competition.
2015
Uardry UD08-270 was entered against leading Merino sires from studs across Australia in the Trangie Sire Evaluation Scheme. The results were very positive with UD08-270 proving to be a trait leader for the Dual Purpose Plus Index, all body weight, eye muscle, fat and staple strength breeding values. An excellent top to cull classing ratio was also achieved showing what a great all-rounder this sire is and that our breeding objectives are being achieved and performing. With the exceptional wool and frame progeny coming through from the DD rams purchased in 2014 Calgaagain purchased 2 more DD Dohne rams at the DD annual sale again with good wool attributes of soft white wool with good character and body frame to add to their sires.
2014
In late September Bill Pye purchased 2 DD Dohne rams with good conformation and excellent wool quality from DD Dohnes at Moama NSW.
2013
Calga has bred the No 1 ranked sire in Australia CA113807 with an index of over 160 now, this ram is a superb example of the Dohne breed with magnificent 64 type wool with a well-defined crimp -1.4 for Micron. He has a body weight of +6 and has this all packed on a big well balanced frame. Not surprisingly the sire of this ram is UD080270 purchased privately from Uardry for $22,000 a record price that still stands today. UD080270 this year has again also sired the top Ram hogget with an index of 160 also and BWT of +9.
2012
740 Uardry ewes were purchased at the Uardry dispersal sale in December 2012. These ewes purchased were the best of the yard and of exceptional quality. 300 of the special Stud ewes were artificially inseminated to Uardry sires in January 2013 the balance joined to Uardry rams.
2011
At annual ram sale Calga sold 92 were at an average of $1448.00. Top Price of $6,500 bought by the Midgery Dohne stud Walgett Stud Master David Berrell CA102509 had an Index 128.1 and was sired by CA081361 he is a very correct ram with a well nourished wool showing excellent crimp definition. Anthony Skinner from Goorianawa station Baradine bought 23 rams with top price of $3400 averaging $1710. Malcolm and Henry Webb from Miagunyah Warrumbungles bought 18 rams with Top price $2300 averaging $1160.
2010
Calga purchased 255 ewes from Ian and Julie Hanna of Koobelup Dohne Stud Western Australia. Calga purchased the top priced ram for $18,000 from the South Australian Potari Dohnes total dispersal sale. The 2006 drop ram weighed in at 126 kilograms, had an index of 140, a fleece weight of 12.2pc above the national average and eye muscle depth 0.8pc above the average.
2009
In November Calga paid $22,000 for the Uardry UD080270 ram which was an Australian Dohne record price. At the 2009 Elmore Field Days Calga also purchased a ram from the Macquarie Dohne Stud and a ram from the Uardry Dohne Stud.
2007
In October 2007 Calga purchased a further 3 rams at the Adelaide Dohne Sale from the Mt Alma Stud in South Australia. Calga bought the top sale ram at $9,000. The ram was very correct with good body length and a 124.1 index. The other rams were purchased at $4,500 and $3,200 with the trio averaging $5,567. Mt Alma has a partnership with the Sudiplass Stud South Africa. Sudiplass is the worlds biggest Dohne Stud with over 5,000 ewes. Calga also purchased 1 ram from Macquarie Stud and 1 ram from Uardry Stud at the Dubbo National Sale.
2004
Calga's early confidence in the Dohne was measured by the $20,000 Australian record price paid for the proven No 1 ranked sire in Australia, Macquarie MD03 0681 at the National Dohne sale at Dubbo in October 2004.
2002
The Calga Dohne stud started with 50 pregnancies and followed with 50 more six months later, initially working closely with Macquarie Artificial Breeders (MAB) to expand the flock to its present number of 1100 Pure bred breeding age ewes.